Luxury extra large dog beds are definitely a thing! Although sometimes a little harder to find than smaller luxury beds you can absolutely still find the perfect fit for your best friend (even in extra large size)!  These beds are such an important part of your dogs life and daily wellbeing that you want to be sure to pick the right one.
What makes a luxury extra large dog bed?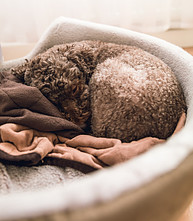 Depending on your specific pup there are a few traits that you may consider "luxury" when it comes to your dog's bed.
*this post contains affiliate links to some well liked dog beds.  If you like the information in this article please consider purchasing through one of our links – it costs you nothing and helps keep websites like this one running*
Size!
First and foremost will probably picking an appropriate size.  Remember that everything is relative, so it is important to look up the actual bed dimensions rather than just settle on the title of extra large.  Some companies make and 2XL or 3XL version as well so sizes may vary greatly if you're only going off of the letter (just like in human clothes)!  For this reason we strongly recommend double checking the actual length, width, and where applicable, height before purchasing.  Personally, we tend to consider a length of 48″ (or 4 feet) to be appropriate for the average extra large or giant breed dog.  Your preferences may vary depending on the size of your dog and the position that they like to sleep in.  It is also important to consider whether your pup likes to have space to sprawl out, or is most comfortable curled into the edged of the bed as this will greatly dictate the size that you should purchase.
Materials!
Meterials can mage a huge difference to your dog's comfort.  Both the inner stuffing material, outer contact material, and any additional materials can have a large impact on your best friends comfort and safety.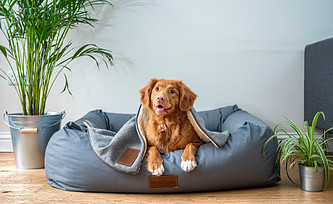 INNER MATERIALS/STUFFING
Think about how much cushion you want and choose a bed with inner materials that fit the needs of your dog.  While a super soft and fluffy bed may be great for giving the very mobile but high anxiety dog a hug simulation it could also be extra difficult for the older arthritic dog to get in and out of.  Likewise, while a harder surface likely holds less head and has less movement while getting in and out it is often also less forgiving on sore joints and less
comfortable while laying down.  Take into account your dogs personal preferences and physical abilities at the time of purchase and keep in mind that you may need a new bed as the dog ages and changes.
OUTER CONTACT MATERIALS
The outer contact material is so important for comfort, cleanliness, and safety!  We like to first think about safety – is the material strong enough that your dog is not likely to chew it up and ingest pieces of the bedding?  Is the material non-toxic if they do happen to spend some time licking or "cleaning" their bed?
Once that basic premise is established it is on to cleanliness.  Is your dog the type to jump in bed all wet and mucky from an adventure outside?  Or  one with a sensitive stomach? Or maybe older and starting to have the occasional accident in the house?  If any of those are the case the ability to easily wash the bed is a huge factor! No material is comfortable when wet or covered in grime so consider how you want to wash the bed and then find something that fits (washing machine, hand wash, hose off, etc.).
Finally, the outer contact material should be comfortable for your dog.  If you have a long haired breed that tends to get hot easily a fluff free nylon bed, or well ventilated mesh surface may be most comfortable for them to stay cool on.  On the other hand, if you have a pup that likes to cuddle up and be kept warm you can go for much more fluff and a softer surface!
Depth (and Strength)!
The depth of a bed goes hand in hand with the inner materials.  Generally speaking, a deeper bed of the same material will offer more cushion than a thinner bed.  If you are looking into a raised bed (such as a canopy bed) strength is also super important to consider for extra large or giant breeds.  If you are going to have a raised bed for your dog make sure that you check the rated weight.  Ideally your dog will be well under the weight that the bed is suitable to support allowing for a margin of safety should they ever add force jumping on or off.
Aesthetics!
Your best friend is gorgeous and their bed should be too!  Once you have determined what type of bed is most suitable for your dog based on the categories above it is time to decide how you want the bed to look.  Think about both your dog and where you will be putting the bed before finalizing this one.  Oftentimes many colour options are offered and choosing one that looks good under your pup and doesn't clash with the paint or decor is important.  Size is another thing to think about here – do you have adequate space in the room for the size of bed that you are selecting?
Quality!
Cheaper isn't always better! While cost is often a factor keep in mind that a quality dog bed can last a long time.  Oftentimes purchasing a cheaper bed that isn't the right fit ends up more expensive in the long run with frequent replacements.  Aim to get a quality dog bed that ticks off all of the boxes for both your dogs needs, and your own while having the durability to last several years.
Can Smaller Dogs Use Extra Large Dog Beds?
Absolutely! For owners looking to just give their dogs some extra space an oversized dog bed can be a great solution! Whether it is to allow extra room for mobility issues, claustrophobia, or just to spoil your pooch extra large is definitely an option.  Additionally, many people purchase an extra large dog bed to allow multiple pups to cuddle up together in the same bed.  This can be of a huge comfort to well attached pups, as well as providing some extra warmth for them during the winter months – body heat goes a long way!
Your dog's bed is like your mattress, an investment in comfort, safety, and a good nights sleep!